Maximize Your Walnut Returns and Build Your Family Farming Legacy
Jared Enos, a fifth generation Carriere family grower, along with our entire team, is dedicated to working with both large and small growers—whether they farm a few acres or a few thousand. Jared takes special care to nurture the relationships with the people who grow and harvest our walnuts—and he understands that every walnut our growers harvest helps them grow and sustain their family farming legacy.
Competitive pricing, state of the art technology, and a dream team of knowledgeable, longtime employees enable us to maximize the earnings potential for our growers. Carriere Family Farms is the premier walnut grower, huller, processor, and storage facility in Northern California.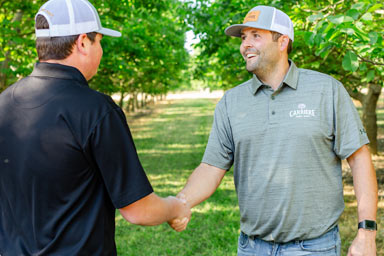 Jared Enos, right, head of Grower Relations, with a Carriere Family Farms grower. Jared is hands-on and out in the orchards with growers year-round.

Our exceptional team of experienced, dedicated people take pride in the personalized service they give to our growers. Carriere Family Farms strives every day to offer this superior level of service to every one of our customers.
Jared Enos, who heads up our grower relations, is out in the orchards with growers every day talking yields, returns, soil health, and market updates.
Carriere Family Farms is actively seeking growers who align with our core values and mission, and who follow the best practices recommended by the California Walnut Board.
Become a grower with Carriere Family Farms!
Please contact:
Jared Enos
Email: JaredE@CarriereFarms.com
Phone:  (530) 330-2321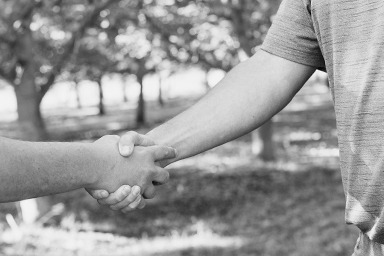 "For over 10 years Carriere Family Farms has been great to work with and consistently provided competitive returns. Their honest, knowledgeable, and accessible staff are just a few reasons why they are such a trusted family business. We look forward to working with them for years to come." — Craig Knight, Knight Farms and Dixon Seed, 6th Generation Farmer